About us
We live in beautiful Vollen, just off Oslo. A large house and a spacious garden.
We are a family of 6. The oldest children have moved out, Lucas still lives at home.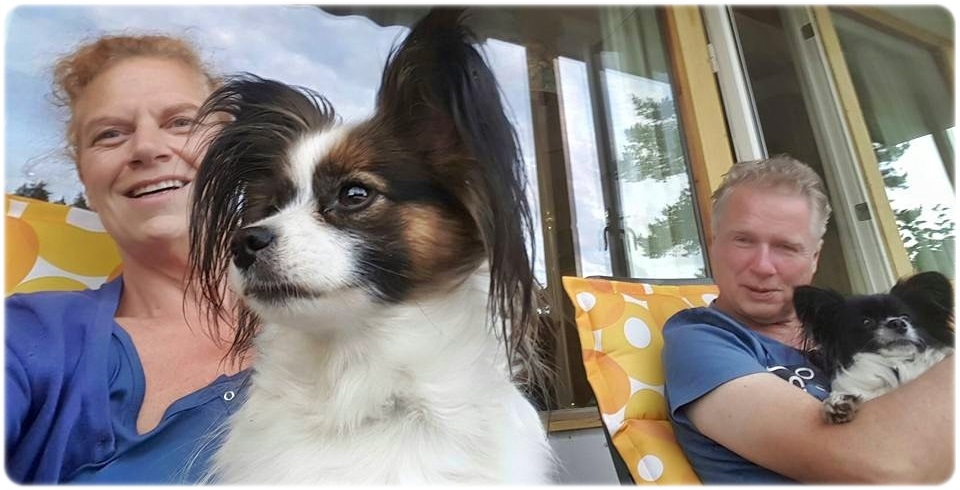 In the picture it is me with Cleo on my lap. Cleo is the mother of our Milla and our Luna. She lives a great life in RÝros and is loved by many. Next to me my husband Lars with our Kelly, our oldest Papillon. She, along with our Tika, was the start of our kennel Kellika (named after Kelly and Tika).

We love the Papillon breed. It's a big dog in a small body. Happy, playful, social, willing to learn, smart and fast. Nice family dogs that can join on long walks. Those who wish to do so may exhibit a bit and / or attend various courses in eg agility, Rally or track. We also recommend attending a puppy course.

We have 3 Papillon at home: Kelly, Milla and Luna. We also have a bitch for, Milla's granddaughter, O'Bella. Lovely Loppa Lotta, who lives with my daughter, is her mom.


Luna has proven to be a star in the ring and can adorn herself with several titles. She is a keen and enthusiastic bitch. Unfortunately, her ears hang after she got her first litter, so she has a show stopper. Both she and Milla love being on long walks, playing with cones and balls in the garden, as well as walking tracks and also agility. They love to "work for the owner"

In the fall of 2015 we lost our beloved Tika, she is missing. In our hearts and through the kennel name, Kellika = Kelly + Tika, she lives on.

Our dogs are first and foremost our much loved "family members"

We sometimes have a litter. We do not sell the puppies to anyone. Potential puppy buyers must come to puppy visits and the chemistry of the puppy must vote and it must feel 100% right for us and everyone. During the puppy season I am concerned about both environmental training and socialization and enjoy it. My goal is to deliver healthy, happy, kind, safe and social puppies. Expect puppy buyers to continue the good development of the puppy in their new home.

In my breeding I look a lot at health and temper and look far back in the pedigrees. Of course, only uses healthy dogs in breeding. Reading pedigrees and understanding what lies behind and what it gives is my great passion. So the preparation for coal is done very thoroughly. But, there are living beings, so you never have 100% guarantee on how the puppy will develop. That's why I promise no stars either. You can hope they will, but you can't promise that when they are so young.

We follow up our puppy buyers with various advice if desired.

Feel free to take a look at our website!

And if you are wondering something just contact us. Email: mail@kellika.com



With best regards Sylvia.